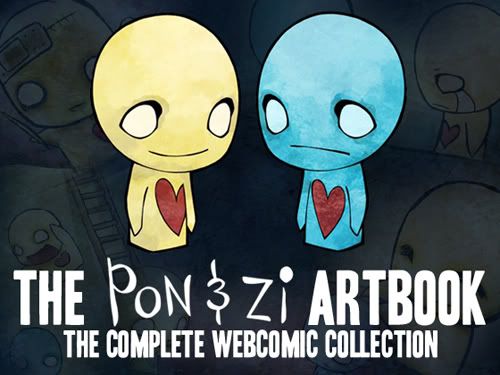 [Click the image to be taken to the Kickstarter page!]
Hey again!
To quickly recap, I recently launched a Kickstarter project to fund the printing of the first Pon&Zi art book. We have reached and
exceeded
the original funding goal of $10,000, and I am now certain to be able to get the book printed! If you haven't been to my Kickstarter page to see what's been happening, please take a look by clicking the graphic above. To thank people for preordering the art book, I've created a list of rewards that are exclusively available through my project, so now may be the only chance to get original Pon&Zi watercolor illustrations, hand-painted resin figures, special edition prints and to get your art book signed. <3
Now that I've got more than enough to get the book printed and especially since there are still three weeks before my project deadline, people have begun to ask what I'll do with the extra money. So I've created a stretch goal for $20,000 and if we make it that far, I'll also be able to get Pon and Zi plushies made! As of right this second, I'm already close to reaching 150% of my original funding goal. Once it reaches 200%, anyone who has pledged $125 or more will automatically also receive a pair of Pon and Zi plushies with their reward package. Anyone who has pledged at a lower level will be able to add plushies to their reward packages by increasing their pledge amount by $20 and selecting the appropriate unlocked pledge level.
Sooo, if you haven't taken a look at the Kickstarter, please do! I still
really
need all the help I can get to continue spreading the word about my project, so I'd really appreciate it if you could tell anyone you know who might like Pon and Zi! The amount of support I've gotten so far is overwhelming. I can't thank you all enough! Let's keep it going!
<333