Hey everyone. : )
I'm back home after an exhausting weekend at FanimeCon in San Jose, in Northern California. I drove from LA on Thursday, met a million amazing people, and drove back immediately after the convention was over yesterday. I've got a few photos to share and a few updates too. : )
The drive up was really pretty, but pretty long at the same time. It's always odd to see how empty California is in places, after being so used to living in the suburbs of Los Angeles. I live right up against some mountains, so to see a flat horizon was a bit odd, and I had to take a picture. The rest stop behind me was actually kind of disgusting. : D
So this was what my table in the Artists Alley looked like. This was taken before the doors opened on the last day, so the posters had all sold out, and I'm kicking myself for not taking the picture sooner. We got a lot of compliments on the print display, and it's funny because my dad and I built it after midnight the night before I drove up. If art school has taught me anything, it's to make last-minute projects happen, and to make sure not everyone notices they were thrown together. Hahaha.
Everyone I met was really friendly, as usual. I saw a lot of the people I met last year, but was sad to hear that a few weren't able to make it to this year's convention. There were some crazy cosplay outfits, as expected, and I couldn't not run out and ask to take a picture with a set of flaming Mario Bros characters. I heard that they were all actually completely straight, and that they were just there for laughs, to perform a routine in the masquerade. I was behind the table the whole time though, so I missed out on all of the activities that were going on elsewhere.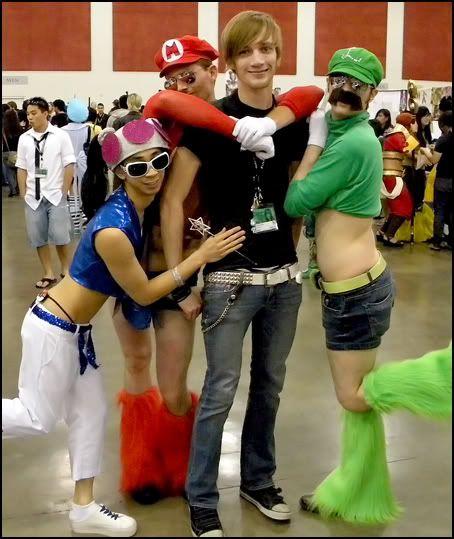 Two very friendly people dressed as Pon and Zi, and that was more than a little bit amazing. I had to take a picture with them before they wandered off. Thanks guys!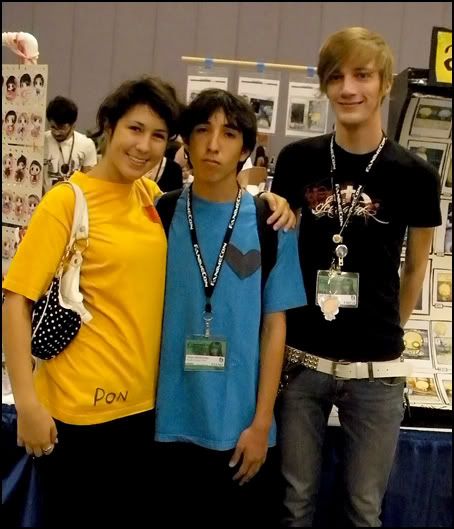 The end of the last day was really, really depressing. My brother and I got assigned a table next to
Kaiami
, and I'm going to make sure we're next to each other again next year, because I always worry I'll be put next to someone who's smelly or mean (or both!). Hahaha. Everyone go visit her page because she's not only really talented, but really nice as well. <3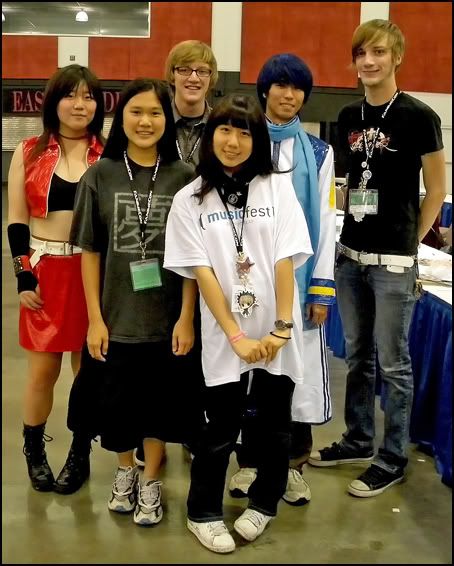 So the next convention I'll be going to is Anime Expo, here in LA. I've never dressed up before, but Pokemon was apparently a big deal at FanimeCon, so I think I might go as a member of Team Rocket for one day at AX, just to vent my inner dork. Hahaha. Anybody know where I can get some pokeballs that clip onto a belt? Or do you have a suggestion for what pokemon I should carry arround? I only know some of the ones from the first set, so I'm going to keep it oldschool.
OTHER UPDATES
T-SHIRT PREORDER DELAY.
The printing company that printed the Tshirts I made available for presale dropped the ball, and they still haven't arrived, even though they were guaranteed to be here by the 23rd. I'm really sorry for the wait, but it's completely out of my hands, and the best I can do is offer refunds if you've ordered a shirt and are unwilling to wait a day or two more. All of the mailing envelopes are addressed and ready to go as soon as the shirts get here, so I'll have them out the same day they get delivered to my door, and you'll all be updated with tracking numbers via email from PayPal. Also, since I know it sucks to wait and wait and wait, I'll be sending a free random pin set or keychain with each late shirt order. So either hold tight just a bit more or send me an email titled "PREORDER REFUND" to azuzephre@me.com with your order number and full name. I'm very sorry for wait, but I've made phonecalls and sent angry emails to the printers, and they say they should arrive any time.
UPCOMING CONVENTIONS.
Anime Expo is the next on my list, and I mighttt be going to AWAcon in Georgia and Comic Con in New York as well. If any of you are planning on going to any of those, let me know and we can meet up for coffee or something, yeah? : )